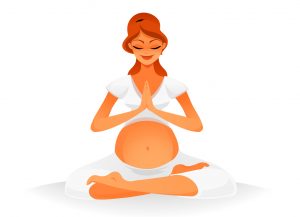 Joseph Campbell said, "People say that what we're all
seeking is a meaning for life. I don't think that's what we're
really seeking. What we're seeking is an experience of being
alive."
That quote set me so free! Suddenly, the trappings of what
we should or shouldn't do fell away, and now there was
permission to just be happy and free.
All of us seek freedom and independence from external
forces. That kind of freedom comes from experiencing
oneself as whole and complete.
Yoga practice brings us to the realization that everything we
need is already within us.
— Alanna Kaivalya
Embracing the changes of pregnancy through prenatal yoga
In yoga as in life, change is an ongoing process. This is especially true when you are pregnant when it seems your body is changing at warp speed.
Gradually, through yoga practice, we can change your body in a healthy way. Perhaps gaining looser hips and spine, longer hamstrings, and better balance.
What you may not consider is that yoga can change your outlook, too. And this is also exceptionally important when you are pregnant, emotions are running high and stressing about things can really affect your body AND your baby.
Yoga unites the mind, body and spirit, and — it can unite our mind with the deeper parts of ourselves.
At the beginning of yoga classes, we often set an intention for practice. The intention can be awareness of the breath,
an intention to be open, or something more personal.
Setting an intention before practice galvanizes our inner resources and aligns them with the energy of change.
Consider setting an intention to be more open – to all things – perhaps all beings, places or opportunities you normally wouldn't be open to. Set an intention to release stress, let
go of what you cannot control, and in general, be more positive, less reactive, and more forgiving of yourself. That last one is huge.
Think about guiding your intentions toward that intentional, positive change and weave that throughout your yoga practice. Then take it off the mat & into the world!
Home4Birth clients, pick up a free prenatal yoga pass at our office for Source Yoga's Thursday night classes, held from 7 to 8 p.m. After that first free class, purchase the next three class bundle for just $12.50 (reg drop in rate is $15). So, it's like getting another two classes for free! Postnatal clients are encouraged to attend! Class taught by Lauren Windle, Certified Yoga Instructor, (317) 809-5993, barefootgirl@comcast.net.