Prenatal care monthly through 28 weeks then bi-monthly to 36 weeks and weekly 36+ weeks.
One 36 week prenatal home visit that includes all members of your birth party.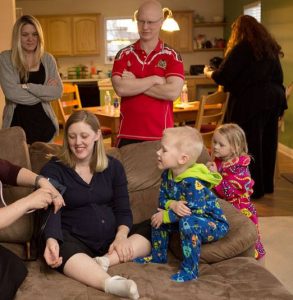 Primary care of mother and the infant throughout the birth process and the 1st 6 weeks postpartum.
Postpartum Care which includes care of mama and a newborn.  These visits are home visits at 3 days (the Indiana Newborn Screening is offered) .   Office visits at 1 week,  3 weeks and 6 weeks.
Soft Tissue Laser Diode Frenotomy both Labial (of the lip) and lingual (of the tongue).
Preconception Counseling, Well woman care and Herbal consultations with a focus on women and children.
Clinical Herbal Services offered and Herbs are sold.
Ameda Egnell Hospital grade breast pump rental station.
Monthly Newsletter
Lending Library
Annual gathering
The Midwives Model of Care is based on the fact that pregnancy and birth are normal life events. The Midwives Model of Care includes:
Monitoring the physical, psychological and social well-being of the mother throughout the childbearing cycle;
Providing the mother with individualized education, counseling, and prenatal care, continuous hands-on assistance during labor and delivery, and postpartum support;
Minimizing technological interventions; and
Identifying and referring women who require obstetrical attention.
The application of this model has been proven to reduce the incidence of birth injury, trauma, and cesarean section.
© 1996-2001 Midwifery Task Force
---
Our Philosophy of Care
We believe:
A family has a right to choose where and with whom they birth.  It is an honor to be included in a family's birth experience!
A baby's life begins at conception. How women care for themselves and are cared for prenatally has a profound impact on both pregnancy and birth.
Pregnancy and birth are life changing events that have far reaching consequences. Family centered Midwifery care can positively impact family unity and parenting.
Pregnancy is a blessing and a state of health. Creating a safe and loving environment with people chosen by the family allows birth to proceed normally.
Families choose birth at home for many different reasons. Midwifery care looks at each family respectfully, as individuals.
Midwives offer education, information, guidance and support. We offer family centered Midwifery care by supporting the decisions that families make.
We believe that parents are ultimately responsible for their pregnancies, births and children. As such they have both the right and responsibility to become informed and knowledgeable as a couple, that they may share together in the decision making.
We practice using evidence and intuition the Midwives work as a team and are all primary caregivers, as much as possible, we attend prenatals, births and postpartum visits together.
© Home4Birth 2017