Advantages of Prenatal Yoga for Beginners and Pregnant Yoginis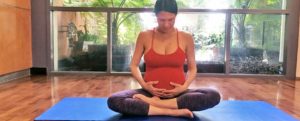 Pregnancy is a significant transition for women on many different levels. It is a time of major hormonal fluctuation that can be associated with shifts in mood, appetite, and sleep just to name a few. In addition, expectant mamas can experience uncertainty towards pregnancy and what life will look like post-childbirth.
While being healthy both mentally and physically is important to many individuals, pregnant women in particular may feel increased pressure to lead an uber clean and healthy lifestyle (if not already) given the potential for unhealthy habits to negatively impact the growing fetus. And, every pregnant woman has a unique experience that ranges from completely blissful with little to no complications, to stressful and difficult with significant pregnancy-related symptoms and complications. For these reasons, it is important for pregnant yoginis to have access to information on ways to nurture herself, and to cultivate self-love and compassion. Armed with this valuable information, women can then make informed decisions about how to best support mind and body during this pivotal time. – Information and photo by Bryan Kest
Home4Birth clients, pick up a free prenatal yoga pass at our office for Source Yoga's Thursday night classes, held from 7 to 8 p.m. After that first free class, purchase the next three class bundle for just $12.50 (reg drop in rate is $15). So, it's like getting another two classes for free! Postnatal clients are encouraged to attend! Class taught by Lauren Windle, Certified Yoga Instructor, (317) 809-5993, barefootgirl@comcast.net.