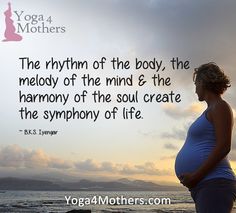 The Psychological Benefits of Yoga for Pregnant Women
Another important effect of prenatal yoga is evidenced in reduced maternal anxiety and depressive symptoms (Prenatal Yoga for Depression) as well as stress management.
Over the course of pregnancy, women experience significant shifts in the reproductive hormones estrogen and progesterone, leaving women feeling emotionally taxed. The connection of breath with movement, along with activation of the PSNS via deep breathing, helps to shift perspective and step out of negative mind states. Stepping onto the mat and moving through a practice allows us to move away from the sometimes overly critical or judgmental mind and creates an opportunity to drop into our seat of intuition.
Yogi Bryan Kest
Home4Birth clients, pick up a free prenatal yoga pass at our office for Source Yoga's Sunday 1:30 p.m. classes. After that first free class, Home4Birth will pay for 1/2 of the first three class bundle. You pay just $12.50 (reg drop in rate is $15). So, it's like getting another two classes for free! Postnatal clients are also encouraged to attend! Class taught by Lauren Windle, Certified Yoga Instructor, (317) 915-9642, barefootgirl@comcast.net.