Baby's Identification Documents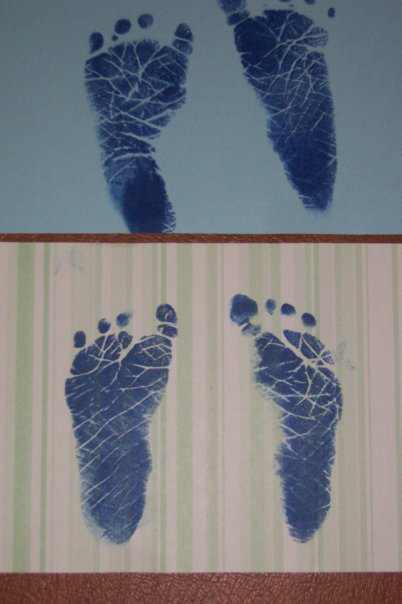 Indiana Birth Certificate Application
How do I apply for my baby's birth certificate?
Newborn Care/Documents
Indiana Newborn Screening:
The Indiana Newborn Screening will be offered at the 48-72 hour postpartum visit.  This is a state mandated test.  Approximately 1 in 500 infants are affected by one of these metabolic disorders.  It is a heel stick that tests for 84 different metabolic disorders. Please see the included brochure if you need more information regarding the screening.  You will need to provide a check made out for 90.00 to the Indiana Newborn Screening Lab to accompany the newborn screening test.  The Indiana Newborn Screening Lab does not bill insurance.
Newborn Pulse Oximetry test:
The pulse ox is a non-invasive test that we offer our clients for free.  To perform the test we wrap either around a baby's toe or hand for a few minutes while we await a reading that give us both a baby's current heart rate and also the amount of oxygen saturation.  This screening is to rule out CCHD (Critical Congenital Heart Disease).  Approximately 1 in 1,000 infants are affected with a serious heart condition that may be picked up.  If your baby fails this test we will refer you to a pediatric cardiologist at either Riley Children's Hospital or Peyton Manning Children's Hospital.
To Obtain Your Birth Certificate:
Complete your demographic information on the form in the Birth Certificate Information message in your chart. Your baby's birth certificate application will be completed online once we receive this demographic information and we will let you know when it is finished.
We recommend that once receive the notification that the information is entered you call your county's health department (ask to speak with the vital statistics office).  During this call you may want to ask the following:
1.  To schedule an appointment to pick up your babies birth certificate.
2.  Ask how much they charge? (They usually only accept cash or checks.)
3.  If you are not married to the father of the baby you will want to ask what is required for establishing paternity and what the cost and time frame of that is.
When you go please take with you:
Both of your drivers' licenses / state photo ID
Your payment for the birth certificate.
Indiana State Newborn Hearing Screening:
We have the equipment to offer the state newborn hearing screening. This is an Indiana State Mandate and we recommend that your child receive the screening.  One in 250 babies are affected by hearing loss.
We will provide hearing screenings for non-clients as well, call for more information, 765-643-9433!
---
How do I apply for my baby's Social Security Number (SSN)?
You have two choices. You can:
Apply for SSN by clicking yes to the spot that asks if you would like a SSN issued on the Birth Certificate Information form in your chart. It is always much easy to apply at the birth time. If "yes", you need to provide both parents SSN. Your baby will be assigned a number which will be directly mailed to you.
You can apply later also for a SSN, through the Social Security Administration Office. You will need to:
Fill out an SSN application. (You need to provide both parents SSN's.)
Show evidence of your child's age, identity and citizenship.
Show evidence of your identity.
Find your nearest Social Security Office  http://www.ssa.gov/
IF you have not received your baby's SSN in 6 weeks after applying for the birth certificate, you will need to call your local SS office and possibly take identifying information to the SS office and fill out an application for a SSN.
What if I lose the card?
Keep your baby's SSN card in a safe place. It's an important document. However, if you lose the card, it can be replaced free of charge at your nearest social security office.
What documents do I need to take to the SS office with me to prove identity?
You will also need to submit at least two documents as evidence of your age, identity, and U.S. citizenship or lawful alien status.
Age: They prefer to see your birth certificate. If you were born in the U.S. and applying for a SSN at age one or older, theymust verify your birth certificate with the issuing agency, generally the State Birth Registrar's office, prior to processing your application. However, they can accept other documents, such as a religious record made before you were 3 months old. If you were born outside the U.S., they can accept your passport.
Identity: They must see a document in the name you want shown on the card. The identity document must be of recent issuance so that they can determine your continued existence. They prefer to see a document with a photograph. However, they can generally accept a non-photo identity document if it has enough information to identify you (e.g., your name as well as your age, date of birth, or parents' names). They cannot accept a birth certificate or hospital birth record as evidence of identity. Some documents that can be accepted as proof of identity are:
Driver's license
Marriage or divorce record
Military records
Employer ID card
Adoption record
Life insurance policy
Passport
Health Insurance card (not a Medicare card)
School ID card
U.S. Citizenship: We can accept most documents that show you were born in the U.S. If you are a U.S. citizen born outside the U.S., show us a U.S. consular report of birth, a
U.S. passport, a Certificate of Citizenship, or a Certificate of Naturalization.
NOTE: They cannot accept photocopies of documents. You must submit original documents or copies certified by the custodian of the record. Notarized copies are not acceptable.
---
How Do I Apply for My Baby's Passport?
If applying for your child under age 13:
As a parent or legal guardian you may apply for your child. Normally, your child need not appear in person. However, passport agents reserve the right to require appearance of your child. Both the parents are required to show their current valid ID. If you are not a U.S. citizen, you must show an alien registration card ("green card"), valid foreign passport, or driver's license. If you do not have acceptable ID, someone with current valid ID must vouch for you as described above.
What are the documents required:
Provide Two Passport Photos.
Your photographs must be: 2×2 inches in size, identical, taken within the past 6 months, showing full face, front view with a plain white or off-white background. Do not wear a hat or headgear.
Original copy of your child's birth certificate. (Xerox copies are not accepted).
Copy of your child's Social Security Number. (Xerox copies are accepted).
Both the parents ID such as Driver's License or passport etc.
Application form.
passport fee and processing fee.
** Note: A child would be issued a Passport valid maximum for five(5) years.
 Do I Need to Obtain a Separate Passport for My Baby?
Yes. All persons, including newborn infants, are required to obtain passports in their own names.
Where to apply ?
There are over 4,500 public places that accept passport applications, all over the United states.
Find out the nearest location and office where you can apply for a passport.
How much time does it take to get the passport?
Apply several months in advance of your planned departure. Allow more time for visa from the foreign embassy. Routine Service will take normally, about 6 weeks time. And it will be mailed to you. But there are different services available, you can opt any one which suits you most. Faster the service, more will be the fee. So don't plan on traveling with a new baby for at least 6 weeks after a birth!