B.E.S.T. & NRP
December 7 @ 8:30 AM

-

December 9 @ 5:30 PM

$150 NRP, BEST475.00
Event Navigation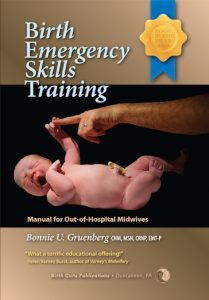 Andrea Dixon will teach NRP & Birth Emergency Skills Training for Out-of-Hospital Providers® (B.E.S.T.)
NRP will be held on Thursday, 12:30 to 5 p.m. The Neonatal Resuscitation Program® (NRP®) course conveys an evidence-based approach to care of the newborn at birth and facilitates effective team-based care for healthcare professionals who care for newborns at the time of delivery. NRP utilizes a blended learning approach, which includes online testing, online case-based simulations, and hands-on case-based simulation/debriefing that focus on critical leadership, communication, and team-work skills. The cost is $175 and $150 for those attending the B.E.S.T. training.
B.E.S.T. is  a certification course that prepares out-of-hospital midwives, physicians, nurses, and birth assistants to manage obstetrical emergencies with greater confidence and proficiency. B.E.S.T. provides 14 hours of continuing education. The B.E.S.T. workshop fee is $475.00. There is a $200.00 deposit required to hold your spot. The deposit is deducted from your workshop fee of $475.00. NO spot is held without deposit! Deposits are due by 10/24/17 at the latest.
To purchase the Birth Emergency Skills Book
http://www.amazon.com/Emergency-Skills-Training-Urquhart-Gruenberg/dp/0979002060
Pitch in lunch both days of BEST. Please mark the ingredients in the dish you bring to share for people with dietary restrictions.
Please contact Home4Birth, Kelly Graham-MacDonald, Office Administrator 765-643-9433, officeadmin@Home4Birth.com with questions about the event, accomidations and to register.
Sign up today as the class limit is 17.